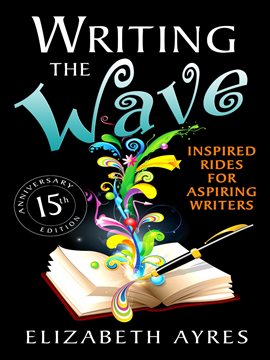 Writing the Wave by Elizabeth Ayres
Where's your wave of creativity? If you want to learn how to write, "Writing the Wave: Inspired Rides for Aspiring Writers" is the very first writing book designed especially for beginning writers who yearn to write more expressively. Written with warmth and wit by internationally acclaimed writer and teacher Elizabeth Ayres, this 15th anniversary edition of a classic writing how-to book makes the creative process safe, easy and fun while honoring its spiritual depth and mystery. Elizabeth shows you how it's done. With step-by-step instructions and easy-to-follow writing exercises, you'll be writing non-stop from the very first page, even if you've never written before. It's just like having a personal writing coach. You can learn how to be a writer. Throw away those endless lists of writing prompts. Learn how to discover your own ideas with these break-through writing exercises that transform fundamental writing principles into concrete writing techniques you can use over and over, forever, whether you want to learn how to write fiction, nonfiction, poetry -- or something that doesn't even have a name yet. Unlike other writing books, "Writing the Wave" couples inspiring writing exercises with expert and compassionate advice, to minimize the fears and maximize the joys of writing. And more advanced writers looking for a jumpstart will appreciate recovering their free-flowing creative wellspring. There's a vast ocean of inspiration within you. The surf's up! The water's warm! Are you ready to take the plunge?
Available on Hoopla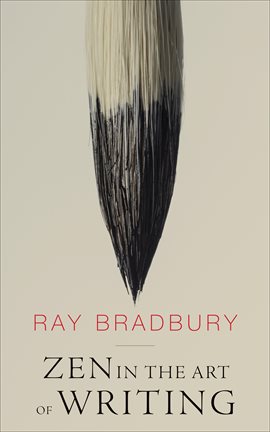 Zen in the Art of Writing by Ray Bradbury
The celebrated author of Fahrenheit 451 and The Martian Chronicles offers inspiration and insight on finding one's muse and channeling it onto the page.
Acclaimed writer of novels and short stories as well as screen- and stage plays, Ray Bradbury has established himself as one of the most legendary voices in science fiction and fantasy. In Zen in the Art of Writing, he shares how his unbridled passion for creating worlds made him a master of the craft.
Part memoir, part philosophical guide, the essays in this book teach the joy of writing. Rather than focusing on the mechanics of putting words together, Bradbury's zen is found in the celebration of storytelling that drove him to write every day. Bringing together eleven essays and a series of poems written with his own unique style and fervor, Zen in the Art of Writing is a must read for all prospective writers and Bradbury fans.
Available on Hoopla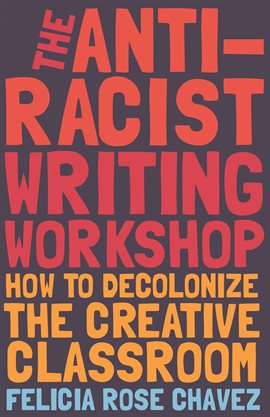 The Anti-Racist Writing Workshop: How to Decolonize the Creative Classroom by Felicia Rose Chavez
The Antiracist Writing Workshop is a call to create healthy, sustainable, and empowering artistic communities for a new millennium of writers. Inspired by June Jordan 's 1995 Poetry for the People, here is a blueprint for a 21st-century workshop model that protects and platforms writers of color. Instead of earmarking dusty anthologies, imagine workshop participants Skyping with contemporary writers of difference. Instead of tolerating bigoted criticism, imagine workshop participants moderating their own feedback sessions. Instead of yielding to the red-penned judgement of instructors, imagine workshop participants citing their own text in dialogue. The Antiracist Writing Workshop is essential reading for anyone looking to revolutionize the old workshop model into an enlightened, democratic counterculture.
Available on Hoopla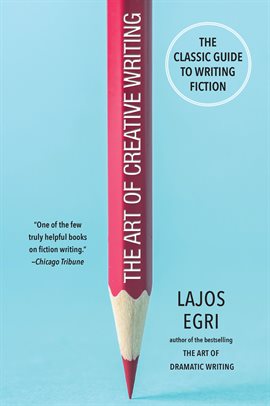 The Art of Creative Writing by Lajos Egri
Go beyond Stephen King's On Writing to master the fundamentals of great storytelling with this foundational guide that reveals the essential elements of what makes the best fiction. The Art of Creative Writing is a timeless testament to the power of dialogue and character development that is accessible for every level of writer from beginner to established author.
As in the bestselling The Art of Dramatic Writing, still considered one of the most essential books on playwriting more than 75 years after publication, the author outlines in detail his highly acclaimed Egri Method of Creative Writing and shows how to apply it to all fiction formats-novels, short stories, and screenplays.
Grounded in Egri's assertion that "Every type of creative writing depends upon the credibility of a character," here is concise, clear advice on the most important element of good writing: characterization. Step by step, Egri shows writers how to probe the secrets of human motivation to create flesh-and-blood characters who create suspense and conflict, and who grow emotionally under stress and strain.
As practical as it is inspiring, The Art of Creative Writing remains a timeless, illuminating guide that teaches every writer, and aspiring writer, how to create works that are both compelling and enduring.
Available on Hoopla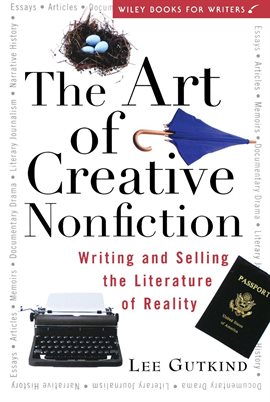 The Art of Creative Nonfiction by Lee Gutkind
A complete guide to the art and craft of creative nonfiction-from one of its pioneer practitioners
The challenge of creative nonfiction is to write the truth in a style that is as accurate and informative as reportage, yet as personal, provocative, and dramatic as fiction.
In this one-of-a-kind guide, it gives you concise, pointed advice on every aspect of writing and selling your work, including:
* Guidelines for choosing provocative-and salable-topics
* Smart research techniques-including advice on conducting penetrating interviews and using electronic research tools
* Tips for focusing and structuring a piece for maximum effectiveness
* Advice on working successfully with editors and literary agents
Available on Hoopla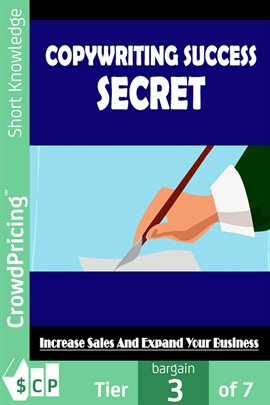 Copywriting Success Secret by John Hawkins
Discover the secrets of copywriting success in easy stages
One of the best strategies for generating successful sales of your products and/or services is learning to write effective copy that will arouse a favorable response from your target market.
Writing powerful copy is an art, a skill, that can make the difference between success and failure in almost any business. With our valuable eBook Copywriting Crackdown, we want to show you how you can...
Available on Hoopla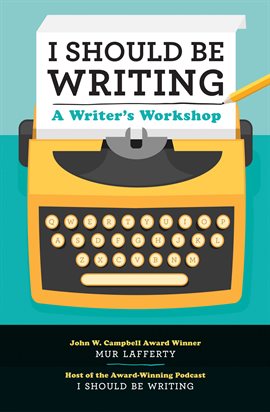 I Should be Writing by Mur Lafferty
I Should Be Writing is everything you'd hope to find in a writing workshop, condensed into one highly effective journal. It's time to stop dreaming about what you want to write and finally do it! Let award-winning podcaster Mur Lafferty, who in the past has interviewed authors including John Scalzi, Neil Gaiman, Gail Carriger, Adam Christopher, and Kameron Hurley, guide you through the nuts-and-bolts process of honing your craft, including which writing myths to ignore, how to refine your creative process, listening to your inner muse while ignoring your inner bully, and more. This book also contains writing exercises that will help the blossoming writer strengthen the writer's muscle of writing every day. These include everything from situational writer's prompts to lists of ideas writers should try to jot down between writing sessions. With this helpful guide, you can make the phrase, I've always wanted to write a story... a thing of the past. Because you should be writing!
Available on Hoopla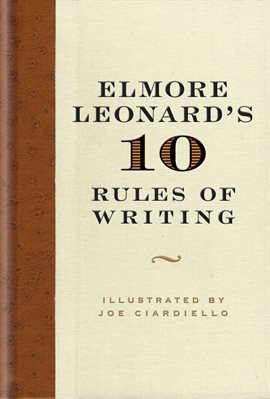 Elmore Leonard's 10 Rules of Writing by Elmore Leonard
"These are the rules I've picked up along the way to help me remain invisible when I'm writing a book, to help me show rather than tell what's taking place in the story. "-Elmore Leonard
For aspiring writers and lovers of the written word, this concise guide breaks down the writing process with simplicity and clarity. From adjectives and exclamation points to dialect and hoopetedoodle, Elmore Leonard explains what to avoid, what to aspire to, and what to do when it sounds like "writing" (rewrite). Beautifully designed, filled with free-flowing, elegant illustrations and specially priced, Elmore Leonard's 10 Rules of Writing is the perfect writer's-and reader's-gift.
Available on Hoopla
Just Write by Walter Dean Myers
After writing more than one hundred books, it still amazes me that I have been lucky enough to spend most of my life doing what I truly love: writing. What makes a writer? The desire to tell a story, a love of language, an eye for detail, practice, practice, practice. How well should you know your characters? Do you need to outline before you write? How important is length? Now Walter Dean Myers, the new National Ambassador for Young People's Literature and New York Times bestselling and award-winning author, walks you through the writing process. Includes:Examples from his writing and reading experiences.
Walter's six-box and four-box outlines for writing fiction and nonfiction
Excerpted pages from Walter's own notebooks
An afterword by Ross Workman, Walter's teen coauthor of kick
Writing tips from both Walter and Ross
Anyone can be a writer, with a little help from Walter Dean Myers!
Available on Hoopla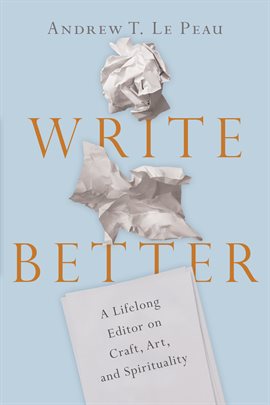 Write Better: A Lifelong Editor on Craft, Art, and Spirituality by Andrew T. Le Peau
Writing is not easy. But it can get better.
In this primer on nonfiction writing, Andrew Le Peau offers insights he has learned as a published author and an editor for over forty years, training, guiding, and cheering on hundreds of writers. Here are skills that writers can master-from finding strong openings and closings, to focusing on an audience, to creating a clear structure, to crafting a persuasive message.
With wide-ranging examples from fiction and nonfiction, Le Peau also demystifies aspects of art in writing such as creativity, tone, and metaphor. He considers strategies that can move writers toward fresher, more vital, and perhaps more beautiful expressions of the human condition.
One aspect of writing that rarely receives attention is who we are as writers and how writing itself changes us. Self-doubt, fear of criticism, downsides of success, questions of authority, and finding our voice are all a part of the exploration of our spirituality as writers found in these pages. Discover how the act of writing can affect our life in God.
Whether you're a veteran writer, an occasional practitioner, a publishing professional, or a student just starting to explore such skills, Le Peau's wit and wisdom can speed you on your way.
Available on Hoopla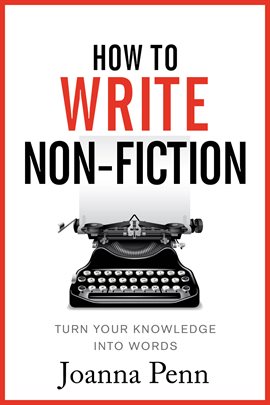 How to Write Non-Fiction by Joanna Penn
Do you want to write a non-fiction book but don't know where to start? Or perhaps you worry that you're not an expert or have enough authority in your niche to write a book on it? Are you ready to help other people and change your own life with your words? The first non-fiction book I wrote changed my life. Sure, it helped other people, but mostly it altered the course of my life — so much so that 10 years later, I make a living with my writing. In this book, I'll share everything I've learned along the way and save you time, effort and frustration on your author journey. The book includes: PART 1. Before You Write: Mindset Why write a non-fiction book? Can I write a book if I'm not the expert? Originality. Or, there are so many other books on this topic Who are you? Personal stories and the writer's voice The day a non-fiction book changed my life Fear and self-doubt PART 2. Before You Write: Business Types of non-fiction books Business models for non-fiction books Who is your book for? Identify your target market Decide on the topic for your book Decide on your book title Your author name and pseudonyms How long does your book have to be? How long will it take to write the book? Your perspective on time Writing a book proposal PART 3. Writing and Editing Gather and organize existing material Research, interviews, surveys, and social listening Structure and organize the book How to write the first draft How to dictate your book Turn your blog/podcasts/videos/talks into a book Speed and quality Focus and shiny object syndrome Writer's block Co-writing a non-fiction book How to turn a boring book into an engaging read Elements of fiction in non-fiction Truth and perfectionism Legal issues: Using real people, quotes, lyrics, images, and citing sources Self-editing a book How to find and work with professional editors PART 4. Publishing and Product Creation Your publishing options The different formats for your book Non-fiction book covers Book formatting for non-fiction Pricing your book Your book sales description Categories and keywords Turn your non-fiction book into a multimedia course Updating your books over time PART 5. Marketing Non-Fiction Two models of marketing and the importance of mindset Book-centered marketing Paid advertising for non-fiction books Author-centered marketing. The power of a personal brand Build your author website Build an email list Integrate email marketing with your book Content marketing for non-fiction books My non-fiction marketing journey Conclusion and your next steps. It's time to (finally) write your non-fiction book
Available on Hoopla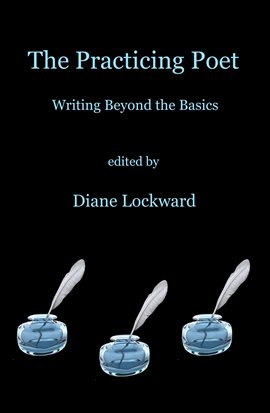 The Practicing Poet edited by Diane Lockward
Organized into ten sections with each devoted to a poetic concept, The Practicing Poet begins with "Discovering New Material," "Finding the Best Words," "Making Music," "Working with Sentences and Line Breaks," "Crafting Surprise," and "Achieving Tone." The concepts become progressively more sophisticated, moving on to "Dealing with Feelings," "Transforming Your Poems," and "Rethinking and Revising." The final section, "Publishing Your Book," covers manuscript organization, book promotion, and presentation of a good public reading. The book includes thirty brief craft essays, each followed by a model poem and analysis of the poem's craft, then a prompt based on the poem. Ten recyclable bonus prompts are also included. Ten Top Tips lists are each loaded with poetry wisdom from an accomplished poet. The Practicing Poet pushes poets beyond the basics and encourages the continued reading, learning, and writing of poetry. It is suitable as a textbook in the classroom, a guidebook in a workshop, or an at-home tutorial for the practicing poet working independently. The craft essays, poems, and top tips lists include the work of 113 contemporary poets.
Available on Hoopla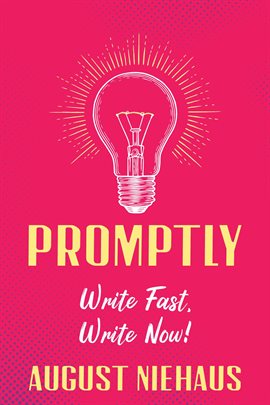 Promptly by August Niehaus
Go from zero to a decent hero (plus a concept and a world) in no time! "Promptly: Write Fast, Write Now!" will spark your imagination with writing prompts from every category important to fleshing out a strong idea: characters, concepts, conflicts, and settings. Mix and match using the guides provided to go from no idea at all to the bare bones of a working novel!
Fire up your imagination with the must-have resources in this book, from worksheets to prompt lists. Intended for writers of speculative fiction (like fantasy, science fiction, horror, magical realism, and everything in between), "Promptly" will challenge you to think of your world and the characters that populate it from new angles that will get you to write fast.
Available on Hoopla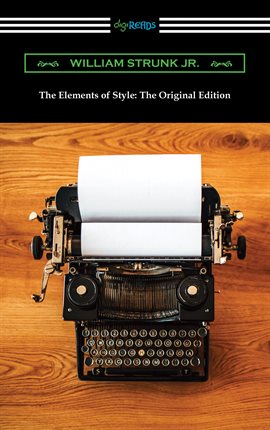 The Elements of Style by William Strunk, Jr.
"The Elements of Style", was first written by William Strunk in 1918 for private use at Cornell University, where Strunk was a professor of English, and republished by Harcourt in 1920 for the public. The concise handbook remains one of the most important and influential English writing style guides ever published. The original edition of the guide is organized into eight elementary rules of usage (such as using the active voice rather than the passive), ten elementary rules of composition (including the rule of omitting needless words), several matters of form, 49 commonly misused words and expressions, and 57 words often misspelled. The result is an efficient and pragmatic guide to help produce writing that is clear and understandable, in which every word is important. In 1957 while at "The New Yorker" writer E. B. White, who had studied under Strunk, called the guide "a forty-three-page summation of the case for cleanliness, accuracy, and brevity in the use of English." "The Elements of Style" remains an effective and helpful guide for anyone who wishes to write with greater order, simplicity, and sincerity.
Available on Hoopla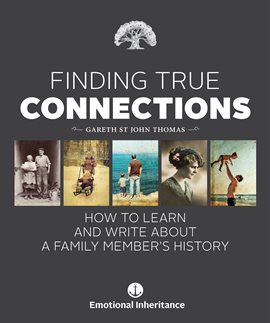 Finding True Connections: How to Learn and Write About a Family Member's History by Gareth St. John Thomas
Our individual memories define us. Our tribal memories unite us. Emotional Inheritance works with psychologists, writers and historians to provide a premium interview and life story production service. Now, 'Finding True Connections' clearly and simply sets out how you can undertake this process yourself, without an external interviewer. Designed as a series of double-page spreads, on the left-hand page is a prompt question, while opposite are notes on how to gain the most meaningful answers.
Available on Hoopla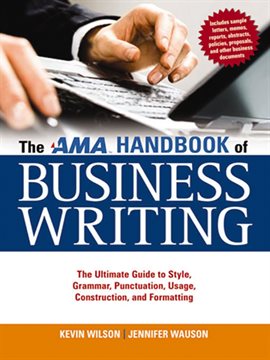 The AMA Handbook of Business Writing by Jennifer Wauson and Kevin Wilson
With more than 800 alphabetical entries and nearly 100 sample documents, The AMA Handbook of Business Writing gives you quick, accessible guidelines to the entire writing process, from using correct grammar and style to formatting your document for clarity to writing effectively for a target audience. Far more comprehensive than the vast majority of business writing guides, yet infinitely easier to grasp than standard tomes like The Chicago Manual of Style, this is a remarkably comprehensive reference---and remarkably easy to pinpoint the information you need to complete any writing project, whether it's an annual report, newsletter, press release, business plan, grant proposal, training manual, PowerPoint presentation, or piece of formal correspondence. Prepared by the founders of a successful corporate communications consulting firm and authors of the best-selling Administrative Assistant's and Secretary's Handbook, this book is designed for businesspeople of every stripe, from marketing managers to human resources directors, from technical writers to public relations professionals, from administrative assistants to sales managers. Peek inside to survey the unprecedented scope of information, all presented in a simple A-to-Z format, with clear examples, helpful cross-references, easy-to-emulate sample documents, and step-by-step guidelines. The AMA Handbook of Business Writing is a classic reference you'll consult every time you write. When it comes to writing, do you know how many businesspeople are just winging it? Almost everyone! And it shows in sloppy grammar, incomprehensible language, poorly structured documents, shoddy research, and downright ugly formatting. Whether it's a simple business letter or a hefty annual report, poor writing looks bad for the organization, and it really looks bad for the person producing it. Help is now here. The AMA Handbook of Business Writing is a complete A-to-Z reference on everything you need to produce top-quality documents. Offering the expansive breadth of information found in The Chicago Manual of Style, but without the excessive detail and complexity, you'll find here more than 600 pages of instantly accessible, thoroughly useful information for getting any job done. With examples and cross-references throughout, the monumental, easy-access AMA Handbook of Business Writing is an indispensable desktop reference for every business professional.
Available on Hoopla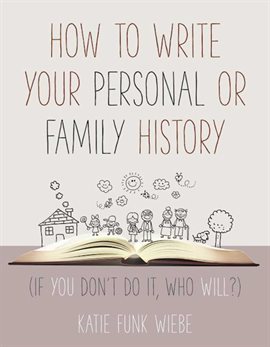 How to Write Your Personal or Family History by Katie Funk Wiebe
This is a practical-and encouraging-how-to book from a long-time teacher of personal and family history writing. Katie Funk Wiebe helps beginning memoir writers get started collecting the stories of their lives. She gives hints for recalling distant memories and tracking down family heirlooms. This is a serious but accessible resource for undertaking your personal or family history writing. In these pages, you'll find:
Tips on writing,
Exercises to prod the memory,
And advice on looking at the broad scope of a well-lived life.
As Wiebe writes, "You've been living 24 hours every day, making decisions, objecting to certain ideas, endorsing others, and interacting with family and coworkers," the author writes. "I plan to convince you that if you took time to reflect, you'd find lots of meaningful stuff going on."
Available on Hoopla
Created by Sam B.