Links to the website for the original movement in Hong Kong.
Cookbooks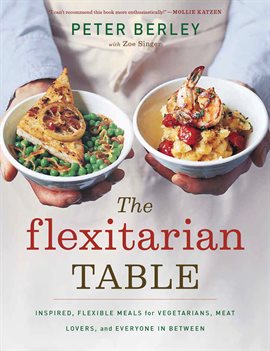 The Flexitarian Table by Peter Berley
Now in ebook for the first time, stylish, seasonal menus to satisfy vegetarians and nonvegetarians simultaneously, by a winner of the James Beard Award and the IACP Award. Today, more people than ever before are choosing to eat sustainably, electing to have vegetarian meals much of the time but sometimes small amounts of fish, chicken, and, more rarely, red meat. They're known as "flexitarians," a combination of the words "flexible" and "vegetarian." The Flexitarian Table is full of exciting menus guaranteed to please them-and everyone else at the table-without stressing out the cook. Drawing from decades of experience as a personal chef and caterer, Peter Berley provides lots of "convertible" meals featuring vegetable and meat versions of the same dish that can be prepared simultaneously without extra trouble, like Crispy Pressed Tofu or Chicken with Garlic and Mint. Others are hearty vegetarian dishes that ensure no one will miss meat, such as Saffron Lasagna with Vegetables and Gruyère. Meals centering around fish or chicken come with vegetable sides that double as mains. An extra bonus of this inclusive book: All of the 150 dishes can be mixed and matched.
Available on Hoopla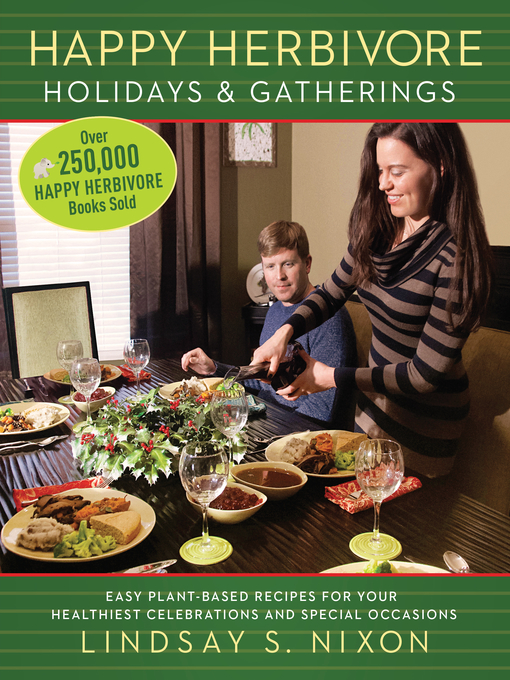 Happy Herbivore Holidays & Gatherings by Lindsay S. Nixon
Bestselling vegan author Lindsay S. Nixon brings "healthy" and "holidays" together in her new book, Happy Herbivore Holidays & Gatherings, filled with easy recipes that celebrate and define our favorite occasions throughout the year. Whether you're planning an elaborate Thanksgiving, a no-fuss dazzling New Year's Eve party, an omnivore-approved potluck for Super Bowl Sunday, or a lazy Sunday brunch with friends, this is the only cookbook you'll need. Including more than 130 recipes with new and old favorites, Happy Herbivore Holidays & Gatherings guarantees you'll have a healthy, festive, deliciously memorable meal—whatever you're celebrating!
Twelve different special occasions are covered in detail with more than two dozen menus and detailed, step-by-step instructions, so your party planning is easy and effortless. Nixon's fuss-free, fast recipes are also weeknight practical, so you can enjoy all her hearty main dishes, savory sides, and sweet treats all year long.
True to Lindsay's beloved "everyday" cooking style, Happy Herbivore Holidays & Gatherings focuses on using only whole, unprocessed plant foods with no added oils or fats, or wacky, hard-to-find ingredients. She makes it easy to impress guests while also celebrating health—and without breaking the bank.
Say yes to Portobello Pot Roast, Thanksgiving Loaf, Hot Chocolate Muffins, Mini Corndog Bites, BBQ Sliders, Cauliflower Hot Wings, Cherry Tart Brownies, Lemon-Rosemary Meatballs, Beet Salad, Banana "Cake" Pops, Mini Soy-Free Quiche, and more. With Happy Herbivore Holidays & Gatherings, your healthy, hearty dishes will be the life of the party!
Available on OverDrive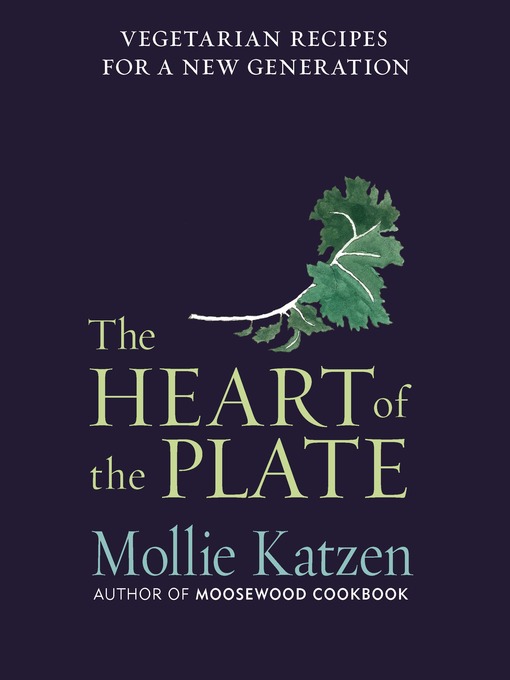 The Heart of the Plate by Mollie Katzen
With The Moosewood Cookbook, Mollie Katzen changed the way a generation cooked and brought vegetarian cuisine into the mainstream. In The Heart of the Plate, she completely reinvents the vegetarian repertoire, unveiling a collection of beautiful, healthful, and unfussy dishes — her "absolutely most loved." Her new cuisine is light, sharp, simple, and modular; her inimitable voice is as personal, helpful, clear, and funny as ever. Whether it's a salad of kale and angel hair pasta with orange chili oil or a seasonal autumn lasagna, these dishes are celebrations of vegetables. They feature layered dishes that juxtapose colors and textures: orange rice with black beans, or tiny buttermilk corn cakes on a Peruvian potato stew. Suppers from the oven, like vegetable pizza and mushroom popover pie, are comforting but never stodgy. Burgers and savory pancakes — from eggplant Parmesan burgers to zucchini ricotta cloud cakes — make weeknight dinners fresh and exciting. "Optional Enhancements" allow cooks to customize every recipe. The Heart of the Plate is vibrantly illustrated with photographs and original watercolors by the author herself.
Available on OverDrive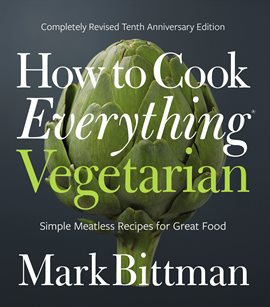 How to Cook Everything Vegetarian by Mark Bittman
The ultimate guide to meatless meals, completely updated and better than ever, now for the first time featuring color photos Ten years ago, this breakthrough cookbook made vegetarian cooking accessible to everyone. Today, the issues surrounding a plant-based diet-health, sustainability, and ethics-continue to resonate with more and more Americans, whether or not they're fully vegetarian. This new edition has been completely reviewed and revised to stay relevant to today's cooks: New recipes include more vegan options and a brand-new chapter on smoothies, teas, and more. Charts, variations, and other key information have been updated. And, new for this edition, the recipes are showcased in bright full-color photos throughout. With these photos and a host of recipes destined to become new favorites, this already classic vegetarian cookbook will continue to be more indispensable than ever.
Available on Hoopla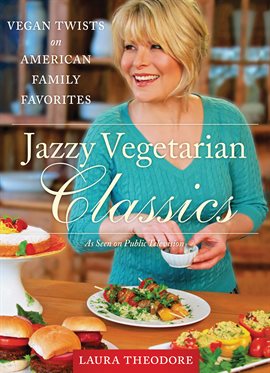 Jazzy Vegetarian Classics by Laura Theodore
Plant-based recipes for yummy comfort food, from the popular public television host! With quick-to-prepare gourmet-style dishes, Jazzy Vegetarian Classics features Laura Theodore's original creations, such as vegan shish kebabs and cauliflower steaks with sweet pepper sauce, and other spins on time-honored favorites, from spaghetti and "wheatballs" to decadent chocolate-ganache cake. Filled with easy-to-follow crowd-pleasing recipes, this cookbook will make nutritionally dense and plant-based dishes your new family favorites. Fun and simple to incorporate into anyone's lifestyle, Jazzy Vegetarian Classics provides wholesome full-menu plans for everything from weekday meals to special celebrations such as parties and holiday dinners. Laura even includes suggestions on how to present appetizing, plant-based meals in unique and festive ways, with her "Jazzy Music Pick" for each menu to help set the mood. Jazzy Vegetarian Classics also includes beginner-friendly guides to the basics of vegan cooking coupled with a glossary of common ingredients, and simple instructions on how to use a variety of substitutes for "veganizing" timeless main dishes, desserts, soups, salads, and so much more. Put on some good music and embrace a healthy, delicious, and jazzy lifestyle!
Available on Hoopla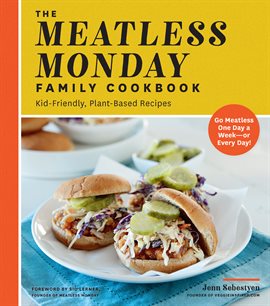 The Meatless Monday Family Cookbook by Jenn Sebestyen
Going meatless one day a week is a great way to improve your overall health, help the planet-and make weeknight cooking fun for the whole family!

The Meatless Monday Family Cookbook features more than 100 delicious, plant-based, kid-approved recipes perfect for busy weeknights, or whenever you feel like trying out a meat-free meal. From filling Lentil Bolognese with Spaghetti to Tex-Mex Stuffed Peppers and Smoky BBQ Burgers, these meals will satisfy even the pickiest of palates. And most can be made in 30 minutes or less!

Chapters cover all types of meals, from Bountiful Bowls (perfect for lunch or dinner), to One-Pot Wonders, to everyone's favorite-Breakfast for Dinner. You'll also find great tips for getting the kids involved ... which has a funny way of making them enjoy the meal even more.
Find something for everyone with recipes like:
Creamy Tomato Soup with Orzo.
Sloppy Lentil Sandwiches.
BBQ Chickpea and Veggie Bowls.
Butternut Squash Mac and Cheese.
Quick Peanut Noodles.
Black Bean and Zucchini Enchiladas.
Thai Sweet Potato Curry.
Cheesy Broccoli Stuffed Baked Potatoes.
Banana Walnut Baked Oatmeal.

Kickstart your week in a healthy and fun way with The Meatless Monday Family Cookbook.
Available on Hoopla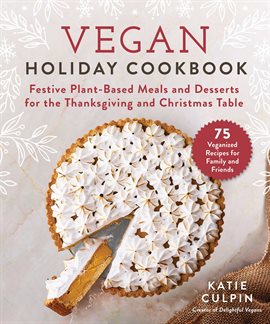 Vegan Holiday Cookbook by Kate Culpin
Are you vegan-and do you dread Thanksgiving because your family insists on a traditional turkey? Or are you a non-vegan family member welcoming everyone home for the Christmas holidays-and you're scratching your head over what to cook for your newly vegan son or daughter-in-law?

Holiday feasts have always been contentious for vegans and their non-vegan family members-when a supposedly welcoming season of loved ones dining together becomes divisive when animal products are cooked as part of tradition. Vegan Holiday Recipes addresses this issue head-on and unites family and friends, vegan or not, over simply delicious, easy, healthy, seasonal food.
Available on Hoopla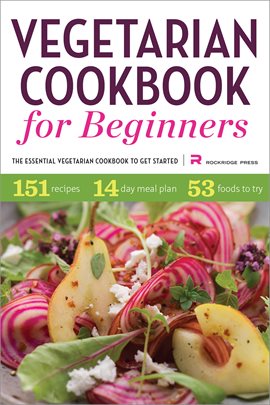 Vegetarian Cookbook for Beginners by Various Authors
With Vegetarian Cookbook for Beginners, discover the guilt-free way to get healthy. As awareness of the health and environmental benefits of vegetarianism grows, millions of people are now switching to a vegetarian diet. Vegetarian Cookbook for Beginners will show you how to start a vegetarian diet so you can live with a clearer conscience, lose weight naturally, lower your cholesterol, and decrease your risk of chronic disease. Vegetarian Cookbook for Beginners will teach you how to cut out meat, without cutting out flavor and satisfaction. With more than 150 hearty, comforting meals to please the whole family, Vegetarian Cookbook for Beginners makes it easy to start a vegetarian diet. Vegetarian Cookbook for Beginners will get you started on the path toward a healthy, meat-free lifestyle with: More than 150 simple and hearty Vegetarian Cookbook recipes; 14-day Vegetarian Cookbook meal plan to get you started; Overview of the lasting health benefits of going vegetarian; Tips from Vegetarian Cookbook on transforming your kitchen to be vegetarian-friendly; Detailed nutritional advice to make sure you get all your nutrients; Practical tips for a successful transition to a vegetarian diet. Vegetarian Cookbook for Beginners is your guide to experiencing the delicious, lifelong benefits of going vegetarian.
Available on Hoopla
Libros de Cocina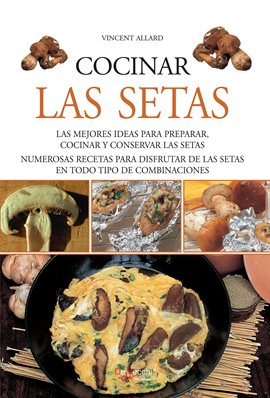 Cocinar las Setas por Vincent Allard
Recogidas durante un paseo, estudiadas a lo largo de una clase, cogidas en los sotobosques dorados del otoño las setas evocan a menudo sabores irresistibles y constituyen, para quienes saben cocinarlas, tesoros para el paladar ¿Quién no recuerda una sabrosa tortilla de boletos comestibles, un capón con morillas o una pepitoria forestal? El autor, excelente gourmet, cocinero reconocido y depositario de recetas a veces olvidadas, nos permite volver a descubrir, a través de numerosas recetas, las indiscutibles cualidades de este alimento fuera de lo común, que encantará a los amantes de la buena mesa y satisfará a los aficionados a una cocina dietética y equilibrada. A usted le toca cortar, limpiar y dorar los níscalos, pleurotos, trompetas de los muertos, etc. Recuerde que los champiñones no son las únicas setas de que disponemos: en los montes y bosques europeos hay más de 1.200 especies comestibles.
Disponible en Hoopla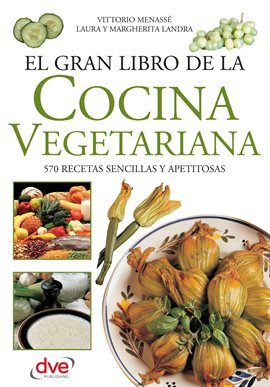 El Gran Libro De La Cocina Vegetariana por Vittorio Menassé
o Llegado de Nueva Zelanda, el kiwi conquistó los mercados del hemisferio norte hace unos años y los occidentales aprecian hoy día las virtudes vitamínicas y sus múltiples cualidades gastronómicas o En esta obra podrá hallar todo sobre la poda y el injerto de arbustos, los cuidados fitosanitarios, el riego, la floración, la polinización y el desarrollo de los frutos o También encontrará información sobre su recolección, su conservación y su transformación mediante recetas sabrosas y exóticas de confituras, tartas y platos dulces-salados o Con esta guía completa, ilustrada con numerosos dibujos y fotografías, descubrirá que la actinidia es también una planta ornamental, más bien rústica, que se adapta bien a nuestro clima templado y que soporta incluso el frío.
Disponible en Hoopla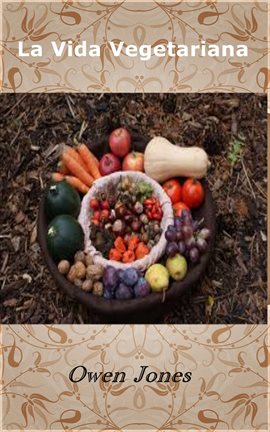 La Vida Vegetariana por Owen Jones
Este no es un libro de recetas, aunque sí trata sobre la comida vegetariana y da algunas recetas de ejemplo.

Espero que encuentre la información útil, práctica y rentable que necesita.

La información en este libro electrónico sobre vegetarianismo y temas relacionados se organiza en 15 capítulos de aproximadamente 500 a 600 palabras cada uno.

Como un bono adicional, le concedo permiso para usar el contenido en su propio sitio web o en sus propios blogs y boletines, aunque es mejor si los vuelve a escribir con sus propias palabras previamente.

También puede dividir el libro y revender los artículos. De hecho, el único derecho que no tiene es revender o regalar el libro tal como se le entregó.

Si tiene algún comentario, déjelo en la compañía donde compró este libro.

Gracias de nuevo por comprar este libro electrónico,

Saludos,

Owen Jones.
Disponible en Hoopla
Created by Sam B.