The Back in the Swing Cookbook by Barbara C. Unell and Judith Fertig
The Back in the Swing Cookbook is a life-affirming book full of 150 feel-good recipes that are easy to prepare, with fresh ingredients specifically designed to help breast cancer survivors get back in the swing of joyful, healthy living. It's a book that you will love to hold in your hands, and use in the kitchen, as a friend and guide to delicious meals and a lifestyle that makes you feel positive. In addition to fabulous food and drinks, the beautiful pages include luscious photographs and fun-to-read, smart, friendly nuggets on topics ranging from genetics, lifestyle choices, and the environment to the influence of all three on living a full and happy life.
Created specifically for breast cancer survivors by the national grassroots nonprofit organization Back in the Swing, The Back in the Swing Cookbook answers the number-one question on every cancer survivor's mind: "How do I safely and smartly get back in the swing of life every day after experiencing breast cancer?" Every page is brilliantly designed to nurture your mind, body, and spirit with new information not found in any other cookbook. It is a special gift of goodness to give oneself, a friend, a coworker, or a family member that will reap healthy rewards for a lifetime.
Available on Freading.
Breast Cancer Journey: The Essential Guide to Treatment and Recovery by Ruth O'Reagan
Offering encouragement and support, this updated guide is the authority on coping with breast cancer. Highlighting all the latest medical developments, from diagnosis through treatment and recovery, this essential book guides newly diagnosed patients every step of the way. Including practical tips on managing the emotions, reactions, and side effects of breast cancer and its treatment, detailed questions to ask a medical team for empowerment, and wellness plans for recovery and life after cancer, this comprehensive manual is packed with information to best manage the breast cancer experience.
Available on Freading.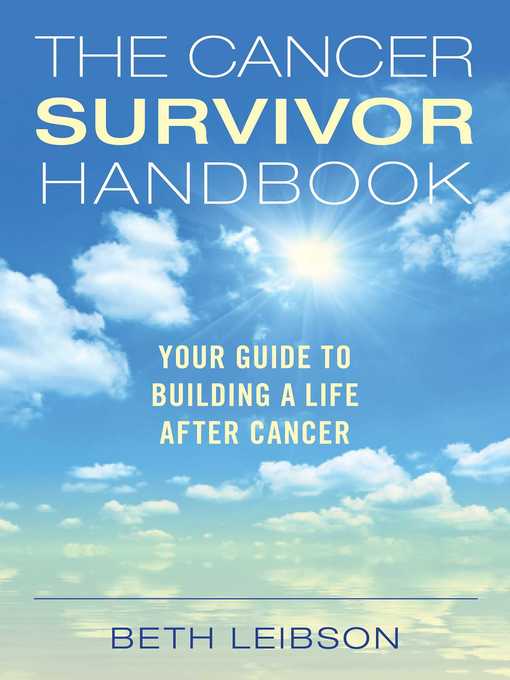 The Cancer Survivor Handbook: Your Guide to Building a Life After Cancer by Beth Leibson
According to the National Cancer Institute, there are an estimated 13.7 million living Americans who are cancer survivors. The institute expects that number to rise to almost 18 million over the next decade. The Institute of Medicine notes that patients diagnosed with cancer have an estimated 64% chance of surviving five years, up from 50% three decades ago. And most of them have lingering symptoms, both physical and emotional.
The Cancer Survivor is a companion and guide for those millions of individuals who are finally done with treatments but are still on the journey to wholeness. Beth Leibson completed her chemotherapy and radiation in 2007. She had beat cancer, but was left with lingering memory issues, exhaustion, depression, pain, and the fear that at any point, the cancer could return. Here she tells the story of how she rebuilt her life, and shares advice from other experts, addressing the emotional, medical, and professional challenges of life after cancer. Here are the questions you're afraid to ask ("When will my sex drive come back?"), the questions you hadn't yet considered ("How do I reenter the work force after a 'break' of a year or more?"), and those you know you should be thinking about but haven't had the energy for ("What supplements or alternative therapies should I be taking to regain my strength?").
Warm, honest, and full of sage advice, this is the book Leibson wishes she had had when the nightmare of cancer treatments drew to a close and the overwhelming reality of starting life over again began.
Available on Overdrive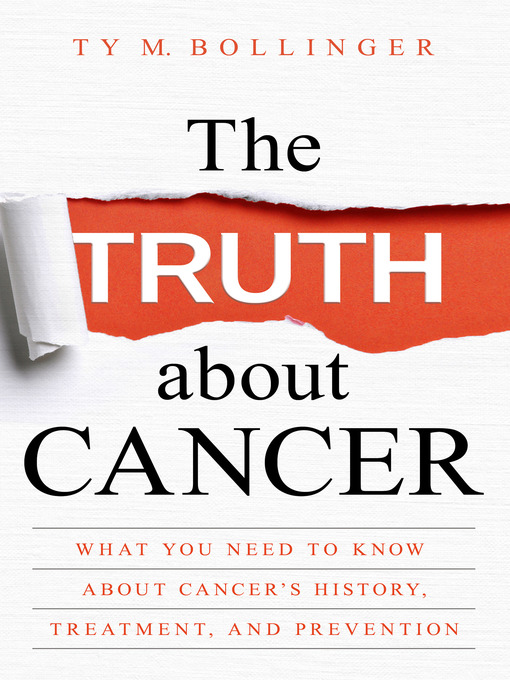 The Truth about Cancer: What You Need to Know about Cancer's History, Treatment, and Prevention by Ty M. Bollinger
Cancer touches more lives than you may think. According to the World Health Organization, one out of three women alive today, and one out of two men, will face a cancer diagnosis in their lifetime.
To Ty Bollinger, this isn't just a statistic. It's personal. After losing seven members of his family to cancer over the course of a decade, Ty set out on a global quest to learn as much as he possibly could about cancer treatments and the medical industry that surrounds the disease. He has written this book to share what he's uncovered—some of which may shock you—and to give you new resources for coping with cancer in your life or the life of someone you love.
As Ty explains, there are many methods we can access to treat and prevent cancer that go well beyond chemotherapy, radiation, and surgery; we just don't know about them. The Truth about Cancer delves into the history of medicine—all the way back to Hippocrates's credo of "do no harm"—as well as cutting-edge research showing the efficacy of dozens of unconventional cancer treatments that are helping patients around the globe. You'll read about the politics of cancer; facts and myths about its causes (a family history is only part of the picture); and the range of tools available to diagnose and treat it.
If you're facing a cancer diagnosis right now, this book may help you and your health-care provider make choices about your next steps. If you're already undergoing conventional treatment, it may help you support your health during the course of chemo or radiation. If you're a health-care provider and want to learn all you can to help your patients, it will expand your horizons and inspire you with true stories of successful healing. And if you just want to see cancer in a new light, it will open your eyes.
Available on Overdrive
You Can Do This! Surviving Breast Cancer Without Losing Your Sanity or Your Style by Elisha Daniels, Kelley Tuthill, and Ann Partridge.
Breast cancer survivors Kelley Tuthill and Elisha Daniels are redefining what it means to be a cancer patient. More than 200,000 women will be diagnosed with breast cancer each year, but that diagnosis does not mean sitting on the sidelines while life passes you by. Both Tuthill and Daniels worked throughout their extensive cancer treatments and continued to enjoy their family, friends, and high-profile careers while fighting the fight of their lives. You Can Do This! shares with you the strategies that worked, what didn't, and what they wish they'd have known at the time of diagnosis, namely to:
* Send a message to the world that you are healing, not dying.
* Surround yourself with people who know how to make you feel better.
* Try to stick to your routine when possible. Go to work. Take the kids to school.
* Have a plan for what you will do at 2:00 a.m. if you cannot sleep.
* Keep wearing makeup and high heels. You don't have to look and feel like a patient all the time.
* Believe that you can beat this!
Benefiting from the expertise of Dr. Ann Partridge, an oncologist at the renowned Dana-Farber Cancer Institute in Boston who helped both of the authors through their own cancer journeys, this triumvirate answers questions like: Can you keep working? How do you pick out a wig or pencil in an eyebrow? What role might reconstruction surgery and prosthetics play in your recovery? What steps can you take to retain a professional, healthy image despite the effects of chemotherapy? How do you broach the subject of cancer with small children? Is it possible to lose your hair and not your sense of humor or libido?
Inside You Can Do This!, Tuthill and Daniels help the newly diagnosed patient work through the initial shock of diagnosis and move forward to face the coming challenges with courage, strength, grace, makeup, and high heels. By offering advice on looking your best, even when you no longer look or feel like yourself, Tuthill and Daniels emphasize that you can continue to lead an active life and that it's perfectly acceptable to research chemotherapy alongside the latest offerings from Chanel.
Available on Freading.
Created by Sam Beringer